WHALE SHARK TAGGING EXPEDITION
Published by GHOF - Mexico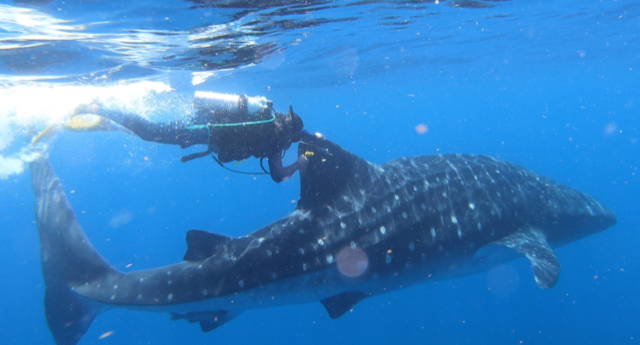 ---
GHOF teams up with Mexican conservation group to tag whale sharks in Isla Mujeres, Mexico.
GHOF and Mexican conservation group Ch'ooj Ajauil teamed up in Isla Mujeres, Mexico and successfully tagged two whale sharks using SPOT (smart position or temperature) tags. This brings the total number of whale sharks tagged in this location to seven, four of which were tagged by the team last year and made different migrations around the Atlantic and Caribbean, only to return to the aggregation site off the Yucatan Peninsula a year later.
This aggregation is the largest known whale shark aggregation in the world, attracting thousands of tourists every year to swim with the sharks in their natural habitat. SPOT tags allow us to track the sharks in near real time, and the study aims to shed some light on their migratory behavior and key habitats including potential breeding and nursery sites which are currently a scientific mystery. Gathering this scientific data will influence decision makers to protect these migratory corridors and key habitats in the open ocean.
To follow our tagged whale sharks visit ghritracking.org
---