Coastal Mississippi
Uncover the Secrets of COASTAL MISSISSIPPI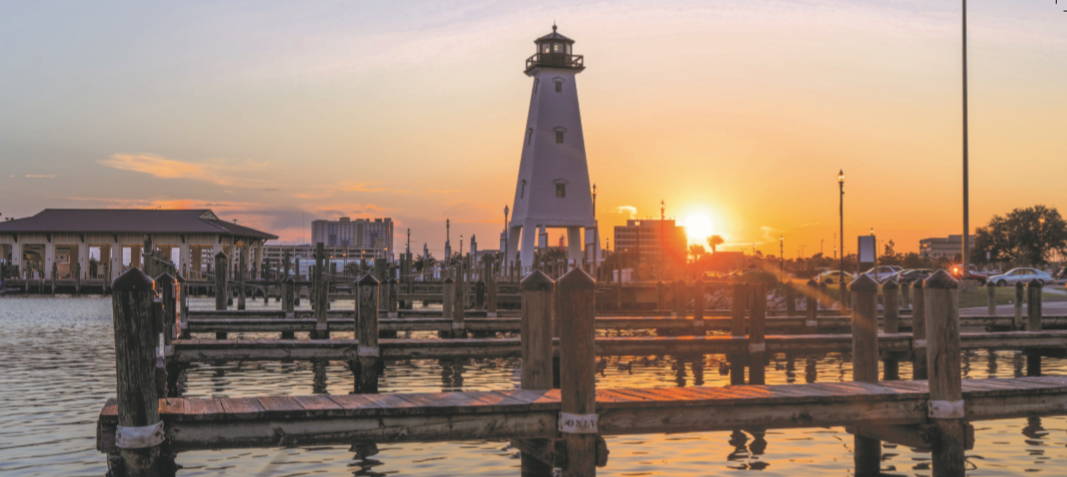 Redfish, speckled trout, great hosts and more
Coastal Mississippi's 62 miles of shoreline feature a natural barrier of islands that make up Mississippi's portion of Gulf Islands National Seashore, creating a distinctive choice for fishing. Whether the trip is solely dedicated to the sport or if angling is coupled with exploring attractions, non-stop gaming among its 12 casino properties, unique coastal towns and an abundance of natural offerings, the Secret Coast provides and the fun never ends.
The region's temperate climate, along with its astounding natural beauty and rich, unique culture, makes for the perfect year-round destination. The joy of unlimited possibilities, open-ended experiences and plenty of room to roam make Coastal Mississippi an attractive and safe destination for visitors of all ages.
Capt. Kyle Johnson never tires of leading a client to catch his or her first saltwater gamefish on an artificial lure.
Anglers, including novices, view fooling a speckled trout or a redfish with a jig or a twitch bait or a topwater plug as an accomplishment greater than hooking one on a live shrimp dangled beneath a float.
"People will scream, 'I can't believe I caught one on a lure,' " said Johnson, who operates a guide service, Coastal Waters Outfitters, out of Biloxi. He caught his first trout as a boy on a MirroLure while fishing an oyster bed with his dad.
His job, he happily admits, is made easier by the abundance of reds and specks off Mississippi's Hancock, Harrison and Jackson counties, known collectively as the Secret Coast.
Johnson finds reds and specks inshore and offshore, from back bays to barrier islands. Both are year-round fisheries. At times, a mixed bag may also include tripletails, a fish notorious for hanging around anything that floats, and surfrunning pompano.
The speckled trout, while spectacularly patterned, is outshone by redfish, which in Mississippi, tend toward a burnished copper color or even gold. They have a minimum of two characteristic tail spots, and some individuals may be marked by a dozen or more tattoos. Their tails are often blue owing to their diet, which includes prey such as shrimp, crabs and fishes that consume blue-green algae.
Small trout — Mississippi has a minimum size limit of 15 inches for specks — surrender easily, and an angler may find himself skittering them across the surface as he brings them to the boat. Larger specimens, sometimes called gators, will hug the bottom, shake their heads and put up a serious fuss when they see a boat or landing net. Woe is the angler who introduces slack to his line when fighting a big'un. Gators got that way for a reason.
Redfish are the bulldogs of the flats and bays. Even a slot-sized red may lead an angler — using light- or medium-weight tackle — on a trip around his boat before coming to net. Surprisingly, there are times when redfish, despite their underslung mouths, will eagerly hit lures fished on the surface. Such topwater strikes can be truly explosive.
Johnson appreciates that the maintenance of his livelihood and the estuarine environment that serves as his workspace requires adherence to a strong conservation ethic. So it is that his clients are called upon to observe catch limits more stringent than those imposed by the state. The captain is president of the Ship Island Chapter of the Coastal Conservation Association and supports Marty Wilson's "One Gulf One Goal" Foundation, based in Gulfport.
The latter group's goals include discouraging littering by people when on the water and helping to restock the Gulf cobia fishery.
Dr. Jim Franks, the senior research scientist at the University of Southern Mississippi's Gulf Coast Research Lab, relates closely to both of those goals. For 30 years, he has overseen a cobia tagging program, and he has worked to identify distinct breeding populations of cobia in the Gulf on the basis of DNA studies. His research has otherwise focused on species ranging from specks to whale sharks. He is currently studying redfish migratory patterns. Franks helped establish the Gulf-Mississippi Marine Debris Task Force and co-wrote the Mississippi Marine Litter Law. He left East Tennessee 57 years ago to become involved in marine research in Mississippi and never left. "I like big water," he said. He judges Mississippi's trout and redfish stocks to be healthy but not invulnerable to fishing pressures and pollutants. He applauds the work of marine conservation organizations, including CCA, and is grateful to Guy Harvey's Ocean Foundation, which has awarded grants for projects at the Gulf Coast Research Lab.
Johnson intends that in addition to reeling, his trips provide his guests with the feeling of being in a special part of the natural world. Mississippi's barrier islands host magnificent rookeries of a sort that inspired the artist Walter Anderson, many of whose works hang in a gallery in Ocean Springs.
There is Southern hospitality - and then there is Coastal Mississippi hospitality.
- Milton Segarra, CEO, Coastal Mississippi
Milton Segarra is CEO of Coastal Mississippi, a regional tourism organization representing Mississippi's coastal counties. For him, art galleries — along with museums, casinos, breweries, shops, restaurants and activities centers — are part of the onshore experience that complement and add to an angler's visit to the Secret Coast.
"We want our visitors to have an experience that is varied, safe and enjoyable," Segarra said. "Kyle and Jim are great ambassadors for our region, and so are all of the residents of our area. I am not from here, but I love it here. There is Southern hospitality — and then there is Coastal Mississippi hospitality."